COMMAND STRANGE TALKS VISIONS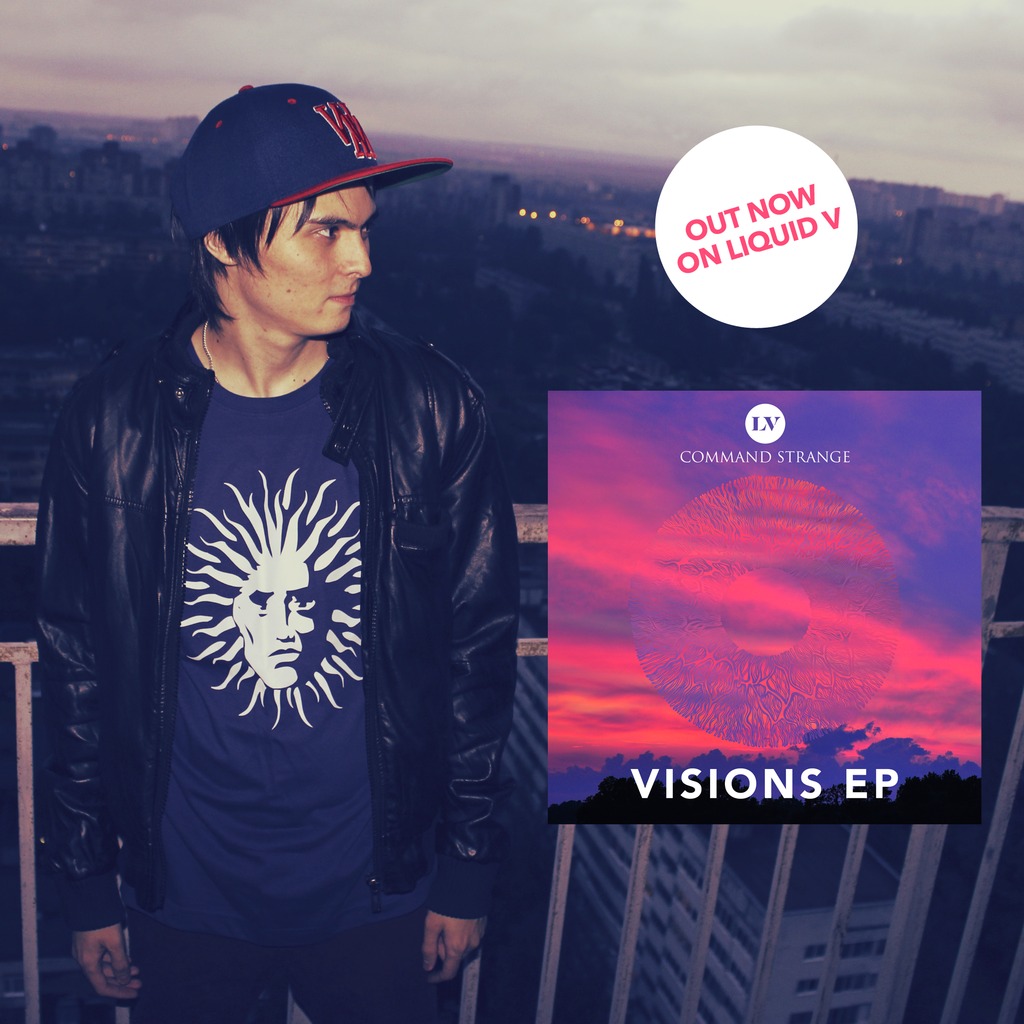 As we soak up his smooth, new Visions EP on Liquid V, we chat to Command Strange about his career so far and what's to come.
What got you into Drum and Bass?
I was introduced to drum and bass when I was 7 years old, thanks to my big brother. He always bought tapes with rave music. I can say Drum & Bass is in my blood. I used to listened to it every day, every hour. When I was young, I always wanted to be a part of the rave culture, but I didn't know how, so I just started writing music. There were limitations - I could not just go to the store and buy vinyl. When we got high speed internet there was no problem accessing new music.
You have gully tracks like Riots and Disco Ball on Chronic and then really smooth beats like Visions - what fits it all together? What would you describe your style as?
I always try to do something inventive in my tracks and love every style of Drum & Bass. Each sub-genres has its own mood and technique. I try to take notes to incorporate in my work, but most of my influences from Hip Hop, Funk, Soul, Jungle.
What do you use when it comes to making your tracks? What's your studio set up?
Usually I use ideas in my head. I think its most important thing to get cool idea. Then work with the idea is something else, more like mechanical thing. Many people can work on the development for months, but I try to finish everything immediately. My setup is really simple: MacBook Pro + Logic + Reason + Ableton + sample packs + VSTs (Reaktor, Massive, Z3ta, Kontakt) + KRK monitors.
Take us through Visions. How did it come together?
I found old school synth from the 80's and just played a nice melody that was in my mind, then added a pretty bassline. Then I spent too many hours to make good drums like Random Movement's style. Finally, the tune sounds so fresh and fun but it also reminds me of good old funky vibes that make me dance all the time!
What were you trying to do with your latest release?
I started from soulful and liquid funk productions and then turned to the dark side, and began to do a lot of proper new school/tech/jump up rollers. This EP is like back in the day. I'm so proud of these 4 beautiful shiny tracks, made specially for my favorite label Liquid V!
When are you next in the UK?
I'm happy to say i will be on tour in the UK for a month:
03.05.15 - Raw Material @ Chicago's, Norwich
08.05.15 - Hashtag DnB @ Purple Turtle, Reading
09.05.15 - Liquid V Basement Funk @ Plan B, London
09.05.15 - Serotone 3 years @ Volks, Brighton
16.05.15 - Overdose @ Cologne, Germany
19.05.15 - Evolution D&B @ Piccadilly Institute, London
22.05.15 - Stilla Audio @ Elevation Club, Gloucester
23.05.15 - Muzik Hertz @ Next Door, Birmingham
29.05.15 - InnerSoul @ Plan B, London
What's your goal as a producer?
The goal to bring good music to the people. Music is magic that makes us happy everyday at any time of life.
Can you also provide 5 tracks that helped shaped your sound?
Prodigy - Breathe
Adam F - Circles
Aphrodite - Summer Breeze
Seba ft Mc Conrad - Planetary Funk Alert
LTJ Bukem - Horizons