LIQUID V SUMMER VIBES: DRUM & BASS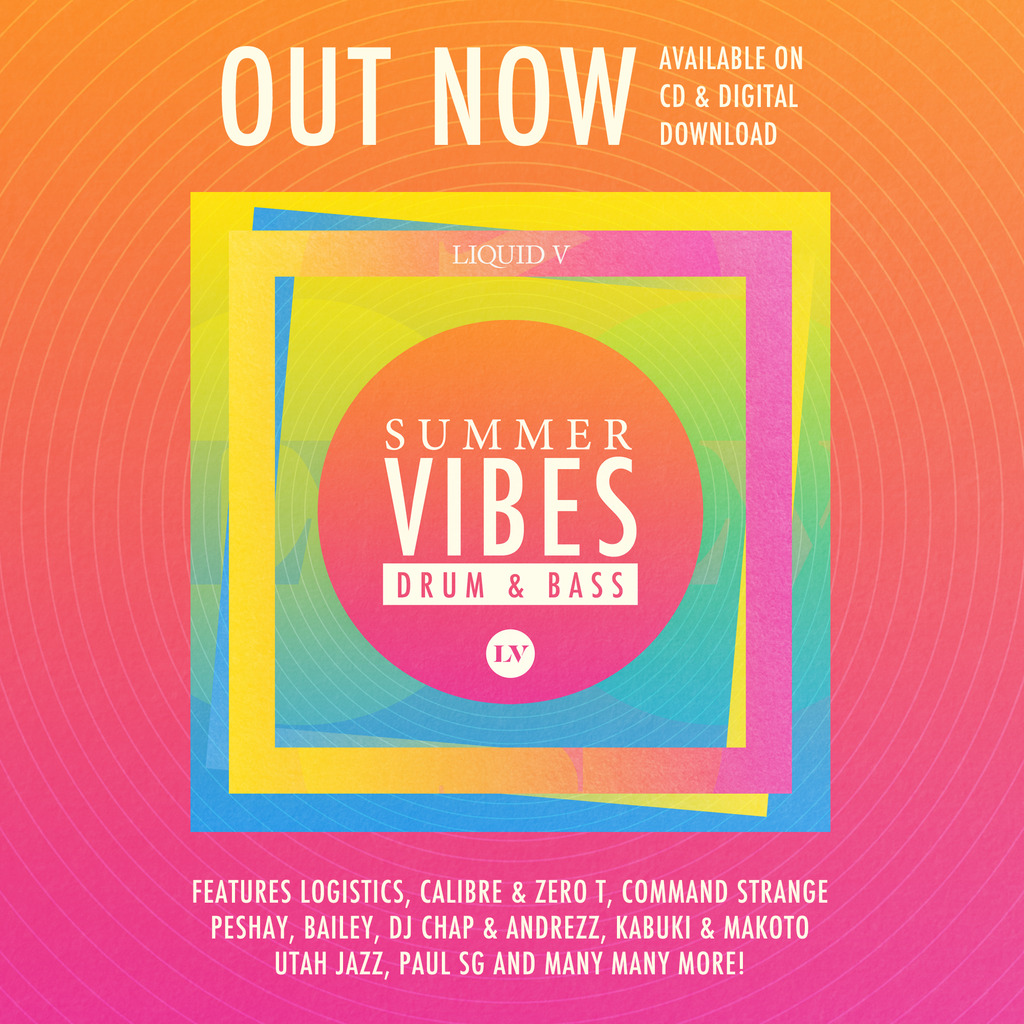 Liquid V is very proud to present Summer Vibes: Drum & Bass - a stunning collection of 25 sun-drenched D&B rollers, complete with a DJ mix from Random Movement direct from the sunshine state of Florida, USA. Combining brand new music from the likes of Command Strange, Rowpieces, DJ Chap and Bailey with classics from Logistcs, Calibre, Zero T, Peshay, Need For Mirrors and more - this album is the ultimate D&B soundtrack to the warm months ahead. Press play, sit back and let the summertime vibes wash over you.
Random Movement said, "Over the years Liquid V has been pumping out the kind of tunes that got me into this music; full of soul, energy and good vibes. So many of my favourite artists have made their mark through this label with their music, to the point where I would just look for the big sunshine face logo when going to the record stores and buy whatever it was, regardless of listening to it. With so many of my favourites showing up on the imprint over the years, you can understand my excitement at getting the opportunity to create a DJ mix from their catalog with both tracks from our past as well as new tunes that are about to drop. Liquid V has been and continues to be a leader in pushing the sound I love to play and create, and I believe this mix is a journey through that sound, from its deep past and into a very bright future."
Tracklist:
01. Logistics - Love Unlimited
02. Unreal & Pennygiles - Nothing Last Forever
03. Command Strange - Memories (BRAND NEW EXCLUSIVE)
04. Rowpieces - Want You Need You (BRAND NEW EXCLUSIVE)
05. Calibre & Zero T - One Word
06. Utah Jazz - The Deep End
07. Bailey - Sugar (BRAND NEW EXCLUSIVE)
08. Random Movement - Little Treasure
09. Duoscience - Yeap (BRAND NEW EXCLUSIVE)
10. Paul T & Edward Oberon - This Love
11. Peshay - Boogaloo
12. Kabuki & Makoto - Steroid Funk
13. Paul SG - Stay Classy feat. T.R.A.C
14. Dramatic & Deeizm - Here With You
15. Rowpieces - Cut And Run
16. Unreal - Deepest Love (BRAND NEW EXCLUSIVE)
17. DJ Chap & Andrezz - It's A New World feat. L-Side & MC Fava
18. Need For Mirrors & Zero T - Top Shelf feat. Spikey Tee
19. Rowpieces - Brazil Calling
20. Random Movement & Jaybee - Soul On Fire feat. Adrienne Richards (BRAND NEW EXCLUSIVE)
21. DJ Chap - Old Times (BRAND NEW EXCLUSIVE)
22. Peshay - Fall For You feat. Natalie Reece
23. Blade - Back From The Streets feat. Kyro
24. Dave Owen - Red Sky at Night (BRAND NEW EXCLUSIVE)
25. Simplification & Translate - Tonight
26. Album DJ mix from Random Movement