Catching up with Sl8r...Ahead of his new single on Chronic!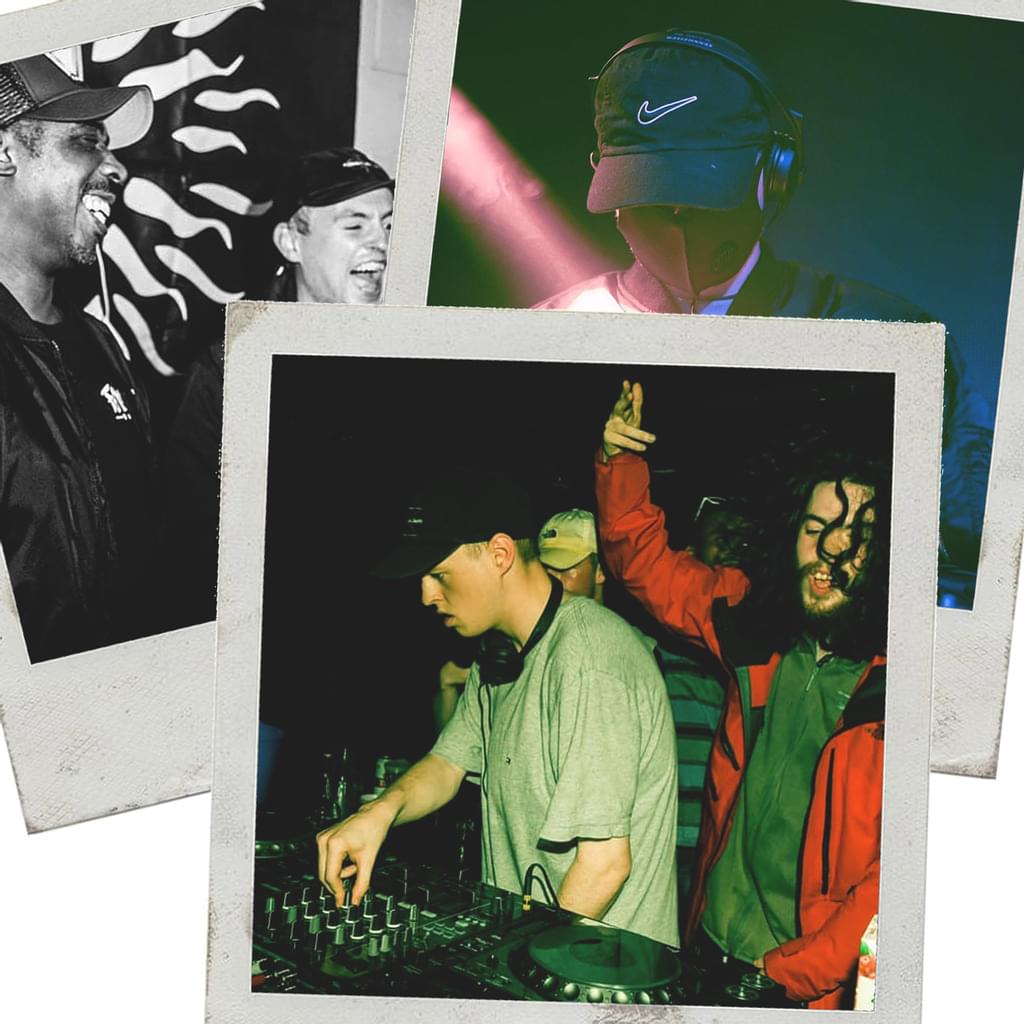 Sl8r - Other Life / Peyote:
Download direct from V | Download and stream from other retailers
-
Undoubtedly one the brightest prospects in drum and bass right now, Sl8r has become a fond member of the V family since linking up with us in 2018. But not enough people are familiar with this exciting artist.

You've probably heard some of his filthy soulful rollers on our Chronic imprint, or maybe you've caught a glimpse of him at a show. Either way, there's a lot to be excited about when it comes to the 26-year-old producer.

Part of the new wave of D&B talents arising from Manchester's endless talent pool, Sl8r is an artist you're going to be hearing a lot more from in future. Don't worry if you can't wait that long though because Sl8r has just released a new single on Chronic! On the back of the release, V caught up with the producer to chat about his journey so far and his role in Manchester's bubbling music scene.
-
How was it being back behind the decks in Bristol at the weekend?

It was good vibes at The Black Swan! Although, I was very delayed due to a potato lorry catching fire on the M6… It was nice to feel some actual bass for a change, but weird hearing peoples voices again. It was a good opportunity to play all the new tunes I've made on a club sound system.

Crazy! It must have been difficult over the past year not having events to test tunes at. Quite a few producers have changed the way they write as a result.

It is weird making heavy club tunes when you're not in the clubs. I suppose I've changed the way I write also as I've been getting more experimental with my music recently. I've been trying to work on more vocal productions because it's not something I normally do. Bryan Gee was actually the one who suggested I should start working with more vocalists.

Your latest single on Chronic is testament to that experimental attitude. It's some of your heaviest work yet.

They're pretty driven towards the club. Before playing in Bristol, I'd only seen videos of others playing them… There was a video of Command Strange playing Peyote in Moscow, which was amazing! It has been so long since I've seen one of my tunes get played at a club where people are dancing are not just sat at tables.
One day… Overall, it does sound like your productions are getting more expansive with each release.

I agree. Especially with my synth-driven liquid sound, a lot of the time it's quite easy to knock up a tune. That gets boring though, so I'm trying to produce drums differently in each tune by making them myself or using breaks. It's important to keep doing things differently. I think a lot of the more established producers tend to have their sound, whereas the newcomers are making everything. It's probably because we've come into D&B through different sub-genres. When I first started I used to listen to Liquid V Club Sessions, RAM and Critical.

Releasing a tune on the last Liquid V Club Sessions must have felt sweet then…

It was awesome! I used to listen to Club Sessions 5 loads. I can still remember having All My Love by Boosta, Atmos T and Nicole on repeat. I love the album, so it felt surreal to release a tune on the latest one. Putting together one of the Chronic Rollers was awesome too.
Speaking of Chronic, you've had a few releases with our sister label now, and in that time we feel you've really flourished as an artist.

It has been amazing. I've done three singles and an EP now. I love that V has all these different labels for different styles of D&B. It gives producers like myself more opportunities. Bryan is always looking out for new talent too. It's funny because I remember Alibi brought me through to V, and L-Side said to Bryan "You have some work to do. Alibi has brought Sl8r, who've you brought?" Haha.

Amazing. For those who don't know, how did that initial introduction go?

It was back in 2018 and stems from a tune I made called Back Roll on Innerground's sister label RSTLSSNSS. That tune changed things for me. Alibi messaged me asking if I could send them more music, then they passed it onto V. I ended up speaking to Level 2 and Chap over Facebook sending them tunes too, and there was a V night in Birmingham near my family home, so I attended it. I told Chap I was attending and he told Bryan to listen to my tunes. That conversation led to my first single on Chronic.

How does it feel to have such strong backing from Bryan himself? He's always talking about you…

It feels good to have Bryan backing me. I'm thankful for the opportunities I've had so far. It has helped my tunes reach more people as Bryan has been so supportive on the V podcast and his Bassdrive show. Him and Frost have given me a lot of good advice, and I'm excited to utilise it in my future productions.

What other productions can people get excited about this year?

I've got a funky single with Slay and Chimpo, alongside a Chimpo collab on Philly Blunt. I've also done an EP for 31 Recordings, and Duskee and I have done a liquid tune for Shogun. I'm just trying to make as much music as possible before gigs resume. One of my aims for this year is release some garage too. I take a lot of influence from the genre with the pitch shifted vocals and garage chords.

Your Everything track on Chronic was teaming with garage influence!

That one is a real garage tip. I think garage and D&B go together well – especially the more soulful garage like Groove Chronicles with their soulful house vocals. The tunes carry the same elements as liquid tracks, apart from the drums.
Were you into garage before D&B?

Yeah. When I was used to live in Birmingham, I remember the older kids on my street listened to garage. I can still recall my mum buying me a Now That's What I Call Garage compilation. I've got into it more as I've got older because when I was at uni in Manchester people weren't really into drum and bass. My mates were into house, garage and techno, so I've been around garage for a while. It's very different to D&B, which provides me with fresh inspiration for my productions.

We feel like a big influence behind your versatility is your upbringing in Manchester's music scene.

Definitely! It's such a good place for music. I love that there are loads of Manchester artists I'm discovering every day. I've been really liking the drill and grime coming out of the city. Like Chunky does his My New Flavours show where he plays only Manchester artists across all genres. It's crazy how much talent there is in this city – especially vocalists.

There are a lot of Manchester vocalists!

They're pretty much exclusively from Manchester, haha! Kinkai, Abnormal Sleepz, IAMDDB – it seems to be the place for vocalists, which is handy for me considering I want to push more vocals in my tunes.

It's good to see how far the Manchester scene has come. There was a moment a few years back when D&B was going through somewhat of a lull.

It's really good. D&B is more popular with students now than it was when I was studying. I didn't used to meet many students who were into the genre, and you'd never hear D&B at house parties. But if you go to a D&B show now then they're all students. Funnily enough, someone stopped me in the street the other day saying "Are you Sl8r? I love your music on V." It was bizarre.


The scene is growing! HIT & RUN have been doing bits for the city and seem to have been especially supportive of you.

Rich Reason is the king of Manchester! He's my favourite promoter in the city. Even throughout lockdown he has been running HIT & RUN TV, which is a wicked initiative. He has been responsible for bringing many new artists through. He booked me for one of their sit down events.

How was that show?

It's the best one I've played at. That event did me a lot of good because it gave me the opportunity to play in front of a crowd again. I got home and felt motivated to make more tunes. When I played that HIT & RUN event I remember pressing play on a tune and as soon as a D&B break kicked in the crowd started going wild. People hadn't heard any live music in months, so as soon as the second snare kicked in they went mental. It was mad! So much pent up energy.

I bet you weren't expecting that!

No… It was a Redeyes liquid tune as well, but everyone was going nuts. It was very cool.

Aside from HIT & RUN, who else in the city has been inspiring you over the years?

Obviously, I was a big Marcus Intalex fan, but the LEVELZ crew is one I looked up to when I moved here. They put out good music, but they also threw mad street parties. It inspired me. If you sit in your room making music all day then you can become closed off. One of the things I love about Manchester is how all the artists are mates with the ravers. That has been inspirational because you see these artists and they're not unattainable. They're regular people. I came from Birmingham not knowing anyone, so seeing that sense of community encouraged me to get involved in the scene.

So did D&B become the direction for you when you moved to Manchester?

Yeah. Towards the end of my first year I started sending music to labels. Then when I left uni I was working at a GP surgery as a receptionist/prescription clerk, whilst also producing D&B at the same time. There came a point where I asked myself – why am I still doing this job when I could be pursuing music? Since then, I've been lucky in that I've not needed to get another job.

It has been quite a rapid ascent for you in a short space of time.

Definitely. I suppose I fell into music and realised I could do it for a living. When I worked at the GP surgery, I used to get home at 6pm, make tunes until 2am, wake up and go back to work. It was draining. Because of V now backing me, I feel like I have the freedom to really make music work. When I first met Bryan I was still working at the surgery.

And you're still only at the beginning of your journey!

It's pretty mad. I've been putting out music for a while, but I'm only really at the start. I feel like I'm now at the level where I'm not just making a load of happy accidents. I can now picture tunes in my head and can recreate them. A lot of the time when you start out you make something because it sounds good, but I feel like I'm better at getting ideas from my head into my productions.
-
Interviewed and written by Jake Hirst
Facebook
Instagram
-
Sl8r - Other Life / Peyote:
Download direct from V | Download and stream from other retailers