DJ Andy tells us about Brazil's Drum & Bass resurgence...'The Brazilian Takeover'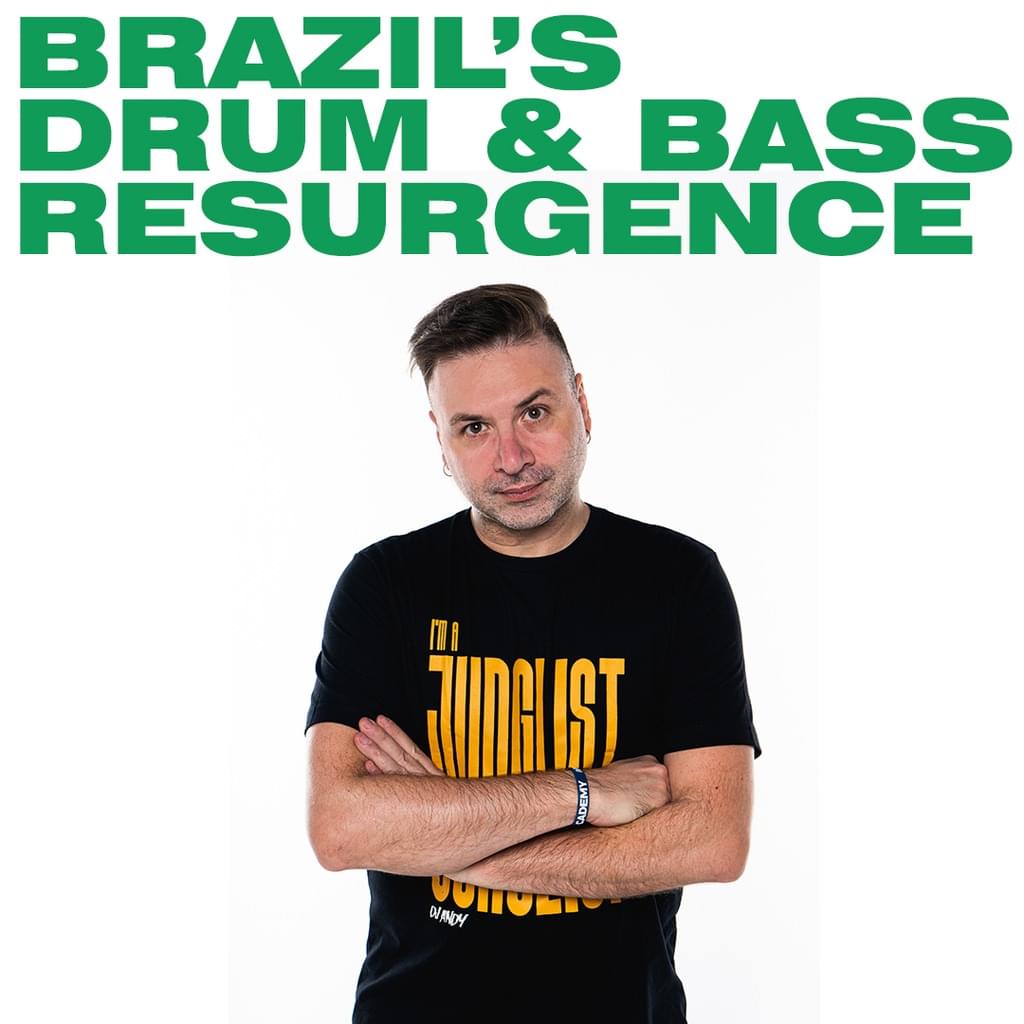 If you're up to date with V Recordings then you'll know we released something pretty special on our sister label Chronic earlier this month – The Brazilian Takeover.

The last time we put out a compilation album like this was Level 2 Presents: Viva Brazil back in 2012. So a decade on, it was about time we re-visited our home away from home to reacquaint everyone. This time, we have DJ Andy at the helm – an artist who was part of the first wave of Brazilians to join the V family back in the early 2000s.

Dedicated to homegrown Brazil talent, and packed with 20 tracks from established V favourites like L-Side, Alibi and Critycal Dub, alongside exciting newcomers including No Scandal, Oliver Ferrer and LOPHT, The Brazilian Takeover is a reminder to everyone why we love Brazil.

But it's not just that. This compilation is a 15-year-long ambition of DJ Andy's. A chance for him to give back to the scene he grew up in, and a calling to the Brazilian producers out there who don't think a career making drum and bass is possible. Despite what some people may think, the Brazil scene is alive and kicking!

We caught up with DJ Andy to gauge the story behind the album, the country's D&B revival, and the young Brazilian producers who continue to inspire Andy even after 30 years in the game.

The Brazilian Takeover! You've been on quite the journey to get this over the line.

My friend, I'm really happy. Bryan and I started talking about a compilation 15 years ago. At the time, I used to come to London. But when my son was born, I didn't travel to the UK for about 10 years. When I started speaking to Bryan about the compilation again, he said to me: "Andy, the people who know you are older because you've taken a long time to come back to the UK. The kids don't know you well, so we need you to make music again first."

You needed to build up a connection again?

Yes. So in 2017, I started working on my music again. I put releases out on V, Chronic, ProRAM, Formation and Dread, but the dream to put together a compilation was still burning inside of me. During lockdown, I began live streaming and I noticed lots of good music coming from producers in Brazil. One day, I did a Twitch live stream and L-Side said "looks like a The Brazilian Takeover" because we had loads of Brazilian DJs on the line-up. I was like – that's a good name! I called Bryan and told him I thought it was the right time to do a compilation. I said I wanted to showcase the new producers here and the already established ones, and he said: "Yes Andy, now's the time. The kids know your music and a lot of Brazilian producers are on top at the moment." That's how The Brazilian Takeover started.

As someone who has been around for years, I imagine this project is a great way for you to support the younger talents out there.

Especially because I've been in the scene for 30 years. Myself, Marky and Patife were some of the first Brazilians to play D&B here, but not as many younger heads know my name. When people started to realise I was from the same era, I was getting messages from the new kids saying: "Wow! You're the DJ Andy from Brazil back in the day. You're a legend!" So I feel very happy with this project.

You've done a stellar job curating it. Clearly Bryan is happy too.

Yes. Originally, Bryan and I were talking about having 30 tunes on the compilation, but he only wanted 20. He said: "Andy, listen to me, I don't want any B-sides on this compilation. Only A-sides. Give me the best ones!"

Pressure… So tell us more about the idea behind it all.

A lot of people think Brazilian D&B is just samba, bossa nova, liquid, but we have many vibes. I felt like we needed a compilation with all the vibes of Brazil. One showing the world Brazil has more to offer than people think. In this compilation, we have tunes for the dancefloor, tunes you can listen to while having dinner with friends, harder rollers. You have everything.

A lot of people who don't know the scene think Marky, XRS and Stamina MC's LK is what Brazilian music sounds like, but Brazilian's love a big bassline.

Absolutely! I love all the tunes, but L-Side's Atomic and Alibi's Rave Digger are big tunes. Senses is worth mentioning too. It's amazing. No Scandal is an exciting new producer.

That's one of the things we love about the album – there's many newcomer talents to discover.

Oliver Ferrer, Abstr4ct, Dirt Bag, D-Sign, LOPHT – there's some amazing new talents. Phizical too. When he sent me Blood Overdrive it blew my mind… I sent it to Bryan and he wasn't sure. I told him to play it out then decide. He came back and said: "Andy, this is amazing!" But it's not just new talents. There's also familiar names like Critycal Dub, Acuna, Dunk, Alibi and BTK.

It must be a good feeling to see a fresh wave of Brazilian D&B artists breaking through.
Definitely. A lot of producers here have stopped making music over time because of being married, having children and other things in life. After this album, I got messages from these producers saying I'd inspired them to get back in the studio. It's time for Brazilian D&B to grow to the heights it once was.

Especially back when you were coming through in the early 2000s, D&B used to be huge in Brazil. But some would say it has lost its way over the years, until recently.
That's what I'm showing through this compilation. D&B was big in Brazil back then, but it has been a bit of a joke over time as the musical flavours here change too much with it being a tropical climate. One day samba is the flavour, one day funky Carioca ( from Rio de Janeiro ) is the flavour. With the compilation, I wanted to show the progress that has been made in Brazil. Back then, we had a big scene and a strong connection with our people and the country, so I wanted to show this to the world again.

How would you say the Brazil scene has evolved over time?

It has constantly tried to reinvent itself. Before, it was too big with 3000-5000 capacity parties. But now, our parties have around 300-500 people at them. After lockdown, we tried to return to how the parties were, but a lot of clubs closed here. Although, there are people here trying to bring the vibes back again. Marky has DJ Marky & Friends, I'll be running The Brazilian Takeover nights, Critycal Dub will be back with his party again too. But it's difficult with the lack of clubs. This makes it even harder to educate the young ones with our music. The scene here is still underground.


The music has always been pretty underground in Brazil, hasn't it?

Yes. We don't have promoters and that's an issue. We just have me, Marky, Critiyal Dub and others putting on events. But we're DJs. If we had a promoter 100% focused on promoting D&B events, then all of us would have more time to work on our music and we'd be able to give our best at the parties. When you're promoting and DJing, your mind is not on the crowd – it's on the door, the bar, the costs.

Very true. So is São Paulo the hub of Brazil's D&B scene?

Yes, but that was also the motivation behind the compilation. I wanted to show people there are talented D&B artists across the entire country. It helps to encourage young artists to get involved in the scene because they see opportunities for themselves. I run an online college called Bass Music Academy and I have students from places including Salvador, Manaus and Minas Gerais. Any of these students could be on the next Brazilian Takeover volume. They're igniting the fire for the culture.

It's a great way of inspiring the young heads to believe in themselves.

That's it. Over the years, a lot of producers here have stopped making music because they don't believe in themselves. But now, the fire is burning bright again. There's new hope. We have lots of young DJs here aged 16-17 playing D&B. We also have girls playing jungle, so the whole scene is making good progress. Just look at Fabz, who featured on Critical's mix competition. I put her in my school to teach her production. Anything I've learnt in my career I give to others so they have the tools to make their music good.

Seeing the ways young producers operate must be inspiring for someone like you who has been around for years.

Definitely. L-Side, Alibi, Simplification and D-Sign were some of the artists who inspired me to get back in the studio and start making music again. I remember visiting L-Side's studio in 2018 when I was not making music and I saw he was producing with only a laptop and headphones. But in my house, I had a proper studio, which I didn't use. I felt like an idiot because I had all this equipment but wasn't doing anything with it, and L-Side had very little but was making lots of nice tunes. After seeing his set-up, I sold my studio gear and started again with a simple set-up. Then when I began catching a vibe with my music, I bought everything back.

It sounds like it was a turning point in your career.

It was. Seeing L-Side's set-up was the moment that changed my mind and sent me running back to the studio to make music. I reinvented myself. If you listen to my production 10 years ago compared to now, you can really hear the difference. Just look at the compilation. I have five tracks on there all with different vibes. They show the influences I've taken from young artists coming through.

The Brazilian Takeover is clearly very special to you for multiple reasons.

Definitely. This album was an opportunity to show aspiring young Brazilian producers that if I can do it then they can too, and a chance to show the older heads who stopped making music that they can come back and live their dream of a career making music. It's not too late. Brazilian D&B producers have been waiting for a moment like this where they can show what they're capable of. For a long time, they believed the door was closed, but it's now open again. I hope this compilation will be the beginning of the next chapter in Brazil's D&B story.
Thanks to Jake Hirst and DJ Andy for the interview, you can check The Brazilian Takeover in full now!