PLANET V RETURNS TO CABLE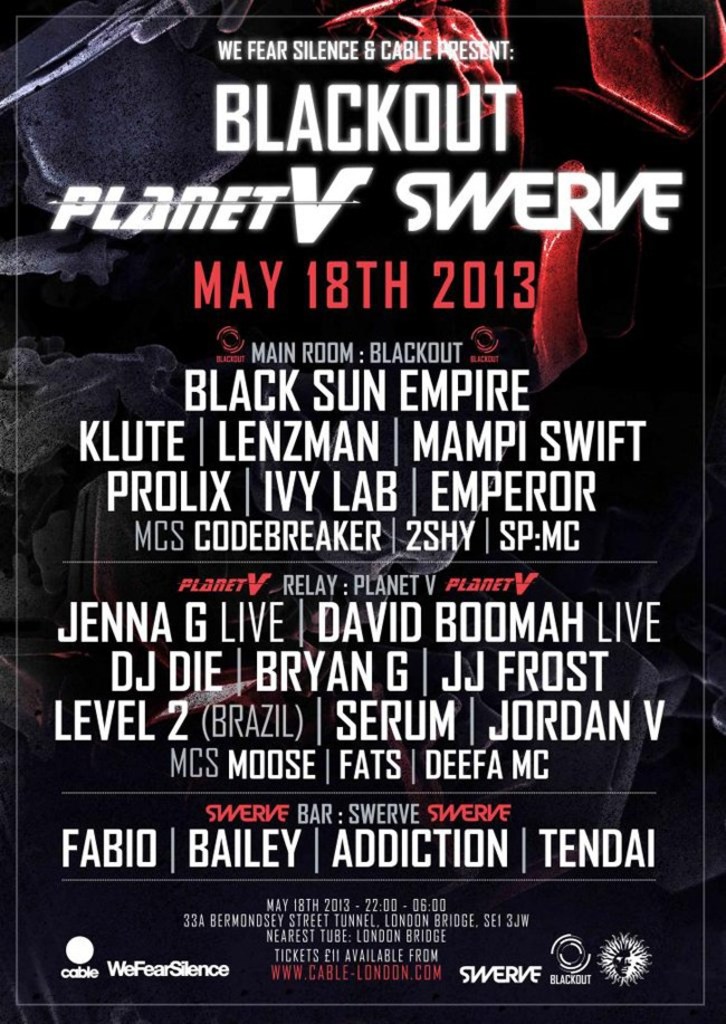 Take the three of the biggest projects in drum and bass, put them together, times it by Cable, and what do you get? The answer is exactly as you'd expect. On May 18th, we bring together the icons that have rocked Cable over the last four years, as Blackout, Planet V and Swerve all come together for one party.
Blackout has a strong history at Cable – having always been a night that's supported the best in new DJ talent, showcasing us some of the finest artists to come through the ranks to stardom – and with Black Sun Empire at the helm, dictating it's direction and always putting on a sterling performance, Room One on May 18th will be a stellar array of only the very best. With Klute bringing his techno charms to the table, expect a fine selection of deep and progressive flavours, as the Commercial Suicide boss shows us some of the most melodic drum and bass in the business. Lenzman will be on hand to back him up, as the Netherlands stalwart brings his love affair with soul and real vocals straight to Room One. And get ready for the double drop from Mampi Swift, as the plain rolling DJ brings some of the best from his own Charge label to the table. Prolix, Ivy Lab, Emporer also head up Room One, before Black Sun Empire's own headline set.
Room Two is Planet V's space, as the label responsible for bringing you early Roni Size and Utah Jazz brings a selection of their favourites out to play. Having originally started as the brainchild of JJ Frost and Bryan G has seen them dominate with anthems from a wide selection of DJ's for over a decade. Room Two see's Jenna G play live alongside DJ Die, who only last week topped the bill at We Fear Silence's big party with Goldie, Commix and more. Birmingham boy, David Boomah who gripped the UK back in the days of jungle also makes a live appearance, where he'll no doubt bring a selection of his big collaborations alongside Shy FX, Congo Natty and more.
Swerve take charge of Room Three, as Cable's longstanding mid-week drum and bass night brings their resident DJ, and Radio 1 star, Fabio, out alongside his playmate, and former multi-award winning BBC 1xtra DJ, Bailey.
This line-up is larger than ever before – and to talk about the full thing, we'd need more words than a Cambridge student's dissertation. So wagwan, make something of May – get educated by some of the kings of the drum and bass world.